Charter Fishing Trips
Charter Boat Fishing in Summit County
What better way to relax while cast fishing and trolling for Rainbow Trout, Brown Trout and Kokanee Salmon? All while surrounded by breathtaking mountain views of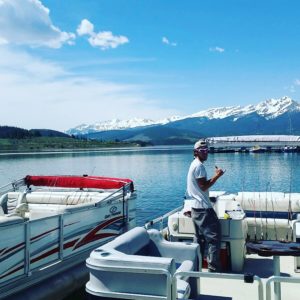 the ten mile range in Summit County. Come enjoy a charter trip with Big Ed's just 25-30 minutes from Breckenridge. We cater to families with small children to avid anglers alike. Come experience some of Breckenridge's best fishing and enjoy a day on the water with you and your family. Departs from slip B-29 at Dillon marina.
Charter Boat Fishing Trips 1/3 day (3 Hours)
1/3 Day Fishing Trips depart daily at 9:30 am, 1:00 pm and 4:30 pm. Guests are asked to arrive 15 minutes prior to trip departure. Big Ed's 24-foot pontoon fishing boats are equipped with 8ft. Bimini tops, rod holders, downriggers, trolling setup, and plenty of room for going after the big catch.
Charter Boat Pricing Per Party
• Party of 1: $130.00
• Party of 2: $210.00
• Party of 3: $290.00
• Party of 4: $370.00
For a party of 4 or more, please call for your pricing! Call: 970-389-1720
Limit 6 per charter trip, but can accommodate multiple boats if necessary
Large Groups 7+ people
• Large groups receive 10% off 2nd and 3rd boats
• Can accommodate up to groups of 24
MINIMUM AGE REQUIREMENTS: 5 years old
More Information About Our Charter Fishing on Lake Dillon
Few things beat a day of fishing on beautiful Lake Dillon, surrounded by the grandeur of nature. Big Ed's Fishing Ventures is the longest running fishing charter company in Breckenridge, Colorado, and our charter service is a great way to catch rainbow trout and kokanee salmon while taking in a relaxing scenic tour of Lake Dillon. You and your family will be awestruck by the stunning natural beauty found in the views of the ten mile range and picturesque Breckenridge. Other types of fish that anglers seek to catch on Lake Dillon include the elusive arctic char and the brown trout.
Our close proximity to Breckenridge (25 minutes away), coupled with the breathtaking views of the ten mile range, make this a trip you and your group/family won't soon forget!
Services and Gear
Big Ed's Fishing Ventures provides all the important gear needed for a day of charter fishing. We will provide the rod, reel, tackle, boat, gas, and guide so that you can concentrate on the important things, such as how big the fish are that you're going to bag. As Big Ed's is an experienced fishing charter company, we know how important good gear is in the high country. The high alpine environment features rapidly changing weather conditions, which means that every sportsman, regardless of their chosen sport, depends upon good and proper gear. This is why we operate two state-of-the-art, brand new 2017 Sun Tracker 22′ fishing barge pontoons that are equipped with 90 horsepower Command Thrust Mercury motors. These two new pontoons are specially designed and setup for fishing by the manufacturer. We also have a well-maintained Harris Kayot pontoon with a 135 horsepower motor to get us up and moving in case inclement weather moves in. Big Ed's Fishing Ventures puts our own Lake Dillon twist on the experience to maximize our success for trout, salmon, and arctic char angling. All of our boats come with an 8ft Bimimi top to keep you in the shade and away from the intense high country summer sun.
Charter Trip Details
A typical charter trip with Big Ed's Fishing Ventures begins with the guests arriving at the boat 15 minutes prior to the departure. There's no real need to get there earlier unless you want to swap fishing yarns with your friends. We will then shove off from the slip and have your group fishing within five minutes after leaving the dock as we know of several honey holes that are close by. Our charter fishing trips last for three full hours, and you will be fishing nearly the entire time. On our five minute jaunt to the first fishing spot, our guides will tell a bit of history concerning the old town of Dillon, information on the nearby breathtaking mountain ranges, and some lore about Lake Dillon itself. Here at Big Ed's, we are proud of the area's heritage and love to share the local history with our guests to complement the fishing experience.
As we make a lap around the 28 miles of shoreline and visit our honey holes, your group will then get the choice to spin cast fish (retrieval-type lure fishing) with open face rods and reels at one of three river inlets or enjoy top water troll or down rig for bigger, deeper fish. We usually top water troll and spin cast on every trip, so you will get to experience both methods if you like. After all, this is your fishing trip, so let us know what you wish. Big Ed's guides are there to work with your group to get them casting correctly, whether you're a young, novice fisherman with no experience or an avid angler. From our experience, even young children get the hang of casting within 20 minutes into the trip. Our main goal is to make sure that your trip is a rousing success. Big Ed's friendly staff caters to everything from the novice angling group to experienced outdoor anglers. We usually only operate the down riggers when the water temperature gets a bit warmer come late July, but we can operate them at any time upon your request.
Recommended dress for a fishing charter trip is long pants and a light jacket. Clients are encouraged to bring snacks and drinks. We value the safety of our clients, so all of our guides are seasoned with years of guiding experience and are CPR/first-aid trained. Trips depart four times daily at 6:00am, 9:30am, 1:00pm, and 4:30pm, and all trips are three hours long. Trips depart from the Dillon Marina at Dock B Slip 30. Big Ed's pontoons accommodate 6 fishers per boat, and we can accommodate a total group of 24 people per trip departure time. Our charter trips are perfect for families, reunions, corporate team building trips, bachelor/bachelorette parties, and more. Whether big or small, we fish 'em all!
We also offer a 10% large party discount for groups over 7 individuals, a 10% active military discount, and a 10% active college student discount as well. Large groups of 10 people or more will receive a 15% discount.
Our friendly, welcoming guides love what they do at Big Ed's Fishing Ventures and come back year after year due to their joy in making fishing dreams come true as well as the breathtaking Lake Dillon scenery that surrounds each and every trip. Together with our close-knit staff of six guides, we have over 50 years of professional fishing guide experience.
Licenses and Limits
While Big Ed's Fishing Ventures provides all the necessary gear to enjoy a fishing trip on Lake Dillon, we do not provide a fishing license. Clients that are 16 and older will need to purchase a one day Colorado fishing license, which is only $9. You can also purchase a dual rod stamp for an additional $5, which will allow you to fish with two rods in the water. Make sure that you have your license (and stamp, if purchased) in place before you arrive for your charter fishing trip. There is a fish possession limit on Lake Dillon, and this limit is 4 fish for licensed individuals and 2 fish for unlicensed individuals (under age 16).
Click Here for A Complete List Of License Sellers'
Here's Wal-Mart's Contact information:
| | | | | |
| --- | --- | --- | --- | --- |
| WAL-MART #986 | PO BOX 4220 | FRISCO ,CO | 80443 | (970) 668-3959 |