Ice fishing for the whole family, novices, kids, and cheapest in Summit County! First and longest running company on Lake Dillon.
Big Ed's offers guided half-day and full-day ice fishing trips in Breckenridge and Summit County, Colorado. These ice fishing trips are perfect for families with young children, bachelor parties, corporate functions, and people who just want the ultimate outdoor experience. No experience needed. Our guides' knowledge and expertise are a huge part of what makes Big Ed's Fishing trips so enjoyable… plus loving their jobs has them doing it with a big 'ol smile! Big Ed's staff are made up of semi-professional anglers, who in their spare time actively participate in ice tournaments around the state. Come spend a day with us in one of our heated shacks, and create a memory for your family or group that can only be had in Summit County, Colorado!
All of the staff are career outdoors men at Big Ed's and we absolutely love sharing our backyard with visitors to Colorado, for a fishing trip you won't soon forget. We have many repeat clients every year and our guides return, year after year so it's an easy fit for a continued relationship between guests and guides for unforgettable fishing memories.
That's what we're after here at Big Ed's. We want to be your home for all your fishing needs when you come to visit the Colorado Rockies.
On your trip, we can target Kokanee Salmon, Rainbow Trout, Brown Trout or Arctic Char, or giant Pike in Steamboat. Big Ed's has been fishing Breckenridge and Dillon since 2004 so we're a versed staff with experience. We have oodles of experience on the bodies of water as well as all over the world that allows us much experience to produce great fishing memories for guests!
Guest satisfaction is our aim. If your group would like to go after specific species like Kokanee Salmon or the elusive Arctic Char just say the word and were on it. Come chill with Big Ed's on the ice and well tighten some lines up for a morning or afternoon of supreme fishing fun and action, filled with laughs and enjoyable for the whole family in the Colorado Rockies.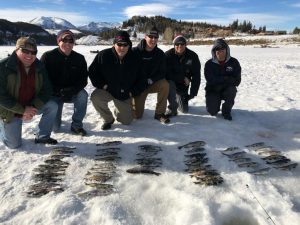 So come catch your dinner's worth of trout and salmon with Big Ed's Ice Fishing Ventures. Big Ed's supplies everything. You just need a one day fishing license. We provide everything you'll need. Ice fishing equipment, fishing shanties, dipsticks (rods), heated huts that we heat to 50-60 degrees, so no matter how cold outside we will keep you and your group warm and fishing tackle. We will fillet your fish at the end of your trip for no additional charge.
License:
You only need to obtain your fishing license from Walmart, City Market or Sports Authority. The license is $9 for ages 16 and up. You can also get your fishing license online clicking this link.  As long as you have email confirmation you are legal to fish for the particular day of purchase.
Let's get your group fishing today.
Read The Summit Daily News Article!
• 1st Person $110
• 2 People $190
• 3 People $250
• 4 People $310
Groups of more than four are available, simply add $50.00 for each additional guest. Call or email for large party reservations.
Kids 10 and under are FREE when accompanied by an adult in Dillon!
Here's our latest video. Ice Fishing will resume in October/November 2018.