Guided Ice Fishing on One of the Best Lakes in Colorado for Trophy Trout.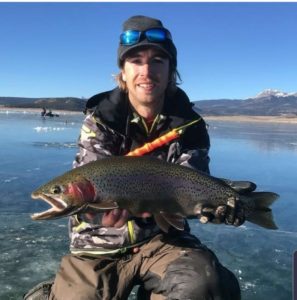 Big Ed's fishing is pleased to offer guided ice fishing trips on one of Colorado's most renowned trout lakes. With its relatively shallow depth and prolific insect populations, Antero Reservoir grows monster Rainbow, Cutbow, Cutthroat, Brown Trout and Splake, with a 15" average size and numerous fish over 20". Located 50 miles from Breckenridge, over the scenic Hoosier Pass, lies this fisherman's paradise. Occasionally we can provide transportation, please call for more information. Those willing to make the drive will surely be rewarded. Our Antero trips start at 4 hours and full-day trips are available.
Prices for 4 Hour Trip Starting at 9:30 A.M. and 1:00 PM Daily
Half Day Prices, 4hr.
1-2 People $300
3 People $350
4 People $400
5 People $450
6 People $500
(Got a group larger than 6 people? No problem, call 970-389-1720, for our group pricing)
Full Day 6hr.
1-2 People $400
3 People $450
4 People $550
License Requirement
You only need to obtain your fishing license from Walmart, City Market or Sports Authority. The license is $16.75 for those residing out of Colorado, for ages 16 and up. Kids under the age of 16 do not require a license.  You can also get your fishing license online clicking this link.  As long as you have email confirmation you are legal to fish for the particular day of purchase.
Let's get your group fishing today.