Welcome to Big Ed's Fishing Ventures
Ice fishing for the whole family, novices, kids, and cheapest in Summit County! First and longest running company on Lake Dillon and now Steamboat Springs!
Big Ed's is proud to offer guided half day ice fishing trips in Breckenridge and Summit County, Colorado and Steamboat Springs. These ice fishing trips are perfect for families with young children, bachelor parties, corporate functions, and people who just want the ultimate outdoor experience. No experience is needed. We'll cater to novice to avid anglers alike. Our trips are a chance to wrangle a monster Kokanee Salmon, Rainbow Trout or Brown Trout. These fish are abundant in the waters here in Summit County and Breckenridge, Colorado and Steamboat Springs.  If you are seeking Arctic Char, we are one of two bodies of water in the lower 48 states where these elusive fish can be found. Add this trip to your bucket list and if you are lucky e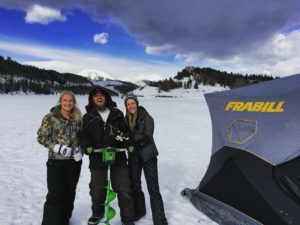 nough to catch Arctic Char, you'll have bragging rights for life.
So come catch your dinner's worth of trout and salmon with Big Ed's Ice Fishing Ventures. Big Ed's supplies everything. You just need a one day fishing license. We provide everything you'll need.  Ice fishing equipment, fishing shanties, dipsticks (rods), heated huts that we heat to 50-60 degrees, so no matter how cold outside we will keep you and your group warm and fishing tackle. We will fillet your fish at the end of your trip for no additional charge.
License:
You only need to obtain your fishing license from Walmart, City Market or Sports Authority. The license is $9 for ages 16 and up. You can also get your fishing license online clicking this link.  As long as you have email confirmation you are legal to fish for the particular day of purchase.
Let's get your group fishing today.
Read The Summit Daily News Article!
• 1st Person $110
• 2 People $190
• 3 People $250
• 4 People $310
Groups of more than four are available, simply add $60.00 for each additional guest. Call or email for large party reservations.
Kids 10 and under are FREE when accompanied by an adult in Dillon!
Watch our latest video (from December 2017!)….the fish are biting. Come ice fishing with your whole family!