Big Ed's fishing ventures newest location to ice fish Stagecoach Reservoir is located 25 minutes south of Steamboat Springs in the Yampa Valley.
Big Ed's ice charters depart at 9:30am and 1pm and are three (3) hours long.
Big Ed's provides all gear: heated hut, rods, reel, tackle, bait, power ice auger and guide. a one day fishing license is available at City Market in Steamboat or online at the bottom of our homepage there is a link to obtain a one day fishing license and is only required for ages 16 and older and the only thing we don't provide. The price is $9. Guests should arrive lakeside 15 minutes prior to trip departure to meet their guide. From there we will walk a short distance where the huts will be heated and setup ready for a great day on the ice. ***CELL SERVICE IS SPOTTY AT BEST SO IMPORTANT TO NOTE YOU WILL MEET YOUR GUIDE AND THE FISHING LOCATION JUST SOUTH OF THE INTERSECTION OF COUNTY ROAD 14 COUNTY ROAD 16.***
Dress warm in layers. Ski clothes are best and something to cover your head, face and neck, scarf, neck gator baclava etc., The million dollar piece of equipment is warm dry boots!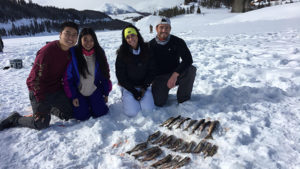 Stagecoach reservoir is well-known for its hard-hitting trout and Northern Pike fishing with large pike caught every year especially in the winter time. This is a hot spot destination for anglers allowing great conditions for winter ice fishing. Stagecoach State Park sets the stage for great recreation in the lush Yampa Valley by Steamboat Springs. Vistas and views are backdrops to the 820-acre reservoir providing renown lake and river fishing. Stagecoach reservoir is known for its fast growing rainbows that average in length from 14-to-18 inches. With a strong trout population, the pike have grown, some as large as 35 to 46 inches and weigh up to 30 pounds (Stagecoach is home to the current Colorado Northern Pike record of 46.5″ 30lbs. 11oz.). All these factors combined allow Stagecoach to be a great place to wrangle a monster trout or pike through the ice.
In order to protect and sustain the trout population at Stagecoach, wildlife managers are encouraging anglers to harvest any pike caught. Dogs are welcome in the park as long as they are on a six foot or shorter leash at all times and their waste is properly disposed of, and we love dogs!
Give your legs a rest day from the slopes, dress warm bring snacks and get ready for a beautiful high country ice fishing trip with Big Ed's.
Tight lines!
Pricing:
1 person – $175
2 people – $300
3 people – $375
4 people – $450
Additional people above 4 is $60 additional per person. And we still offer large party discounts to groups over 7 people (10% off)! Ice fishing will resume in October/November 2018.